"Online Retail is over, the Onlife era has started!" | Blog Dataweps
Wijnand Jongen is an entrepreneur with 25 years of online retail experience, CEO of Dutch Thuiswinkel.org , president of Ecommerce Europe and last but not least author of The End of Online Shopping: The Future of Retail in an Always Connected World . As a thought leader in the field, he has all the innovations first hand. He travels and looks under the cover of companies from San Francisco to China. This is one of the reasons why we brought him to the Czech Republic to present the vision of retail on the Retail Summit . Prior to the lecture he provided us with other valuable know-how.
 In the book you write that online retail will end in the near future. That the onlification of the company is already in progress. What to imagine?
Onlification is a development towards a lifestyle where we will not perceive the difference between online and offline. The term onlife was first used by Luciano Floridi in 2012 when he described the digital revolution in his manifesto. Onlife is not strictly limited to e-commerce, it is not just a change in shopping and consumption habits, but a transformation across society, from education to relationships to work. We are already used to being constantly connected and we expect everything to be available 24/7. Gradually, we'll stop seeing if we're offline or online. We will always be onlife (both "online" and "in life") .
 The future of retail is therefore onlife , as confirmed by the first swallows of Amazon, Alibaba or Google. What already works on the market and would you label it as onlife ? 
We would find a lot of examples of retailers who put the idea of ​​onlife into practice. I wouldn't even focus on giants like Amazon, whose innovations we read all the time. For example, 130 retailers on London's Regent Street are the first in the world to communicate in real time with people passing through the street. It is Decathlon, which comes with branches where you can of course pay in the conventional way, but you can also skip the line to the cashier and pay cashless at any time while purchasing via mobile, Apple Watch or any credit card. At the same office in California, Decathlon also introduced robots that receive goods.
I see a lot of innovation in the food industry. In Russia, for example, they have a new concept of sustainable stores that is expanding rapidly. In the Netherlands, we have the Picnic service, which imports food to hundreds of thousands of people through electric cars. New businesses are emerging all over the world. As consumers we want greener services, quality, personal approach, we want speed and comfort. Onlife is the standard where we want to go as a company, but we have a long way to go. If I were to quote a well-known 70s song: " you ain't seen nothing yet ." 
How to Build a Strong Alternative to Amazon
What will the transformation towards onlife look like in Europe and hence in Central Europe? And what time horizon are we talking about?
Events on the European continent will primarily affect the United States and China. The changes that come from technology giants – not only Amazon and Alibaba, but also Google, Facebook, Microsoft and others – will largely shape the future of retail in our country. 
We, as Europe, have to do two things: 1) find an answer to these strong influences and 2) seize the opportunity to build a unique position of strength.
How do we create such a position of power?
It will be a challenge to create your own playground. But if America or China wants to come to them, they must honor our rules. This will allow us not only to be reactive, but to act proactively, from a position of strength. I believe we will succeed. Europe has a history of cooperation and can build on it. At the same time, we want to be part of this game, not just to let it go to technology giants. And thirdly – and most importantly – this opens up the opportunity to stand up for our values, be it the green economy, privacy in the big data era, security and the safety of materials. 
"Europe has a chance to transform its ethical values ​​into regulations and directives, and if they want Amazon and Alibaba to come, let them come.

 

But they must play according to our rules. "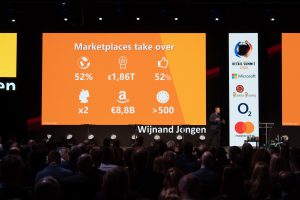 Is it realistic for a regional player to build a downright alternative to Amazon or Alibaba? For example, the Heureka Group is building one platform, a single marketplace across 9 countries.
It is real. But it will be difficult. Consumers will decide who wins. It is they who choose to go right, left or straight. The history of retail shows us that there have always been peaks and falls and that those who are up there today can fall very quickly in favor of new initiatives. 25 years ago there was no Amazon, 15 years ago there was no Facebook and 5 years ago we didn't know TikTok.
The only certainty in the business is that there is always another big thing going on somewhere – be it a total innovation that turns the whole industry over or innovation of an existing one. It may happen that a player will come up with a marketplace based on green and sustainable principles. Or where users feel safe and free to share their personal data.
If I believe in something, it is the ability of people and companies to innovate. And not only technological giants.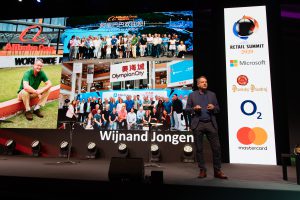 "I believe that if someone" smaller "comes up with an interesting concept, they have a chance of success."
To win is no longer to beat the competition.

 

Those who cooperate will win
It is interesting that one of the ways to build a strong alternative to foreign influences will be cooperation. How to spread this idea more to online retailers? This is a field that is extremely competitive from the logic of the matter.
The truth is that we must cooperate. I don't see that we have much choice. If we are more collaborative, we have a chance to face the world's big players. And this is not only true in retail. Retail will have to work with political leaders, online and offline retailers will have to find a common ground. I have had the opportunity to see truly creative collaboration opportunities, such as online food delivery to people's homes twice or three times a week, so they pick up other companies' goods, whether they're clothes or laundry.
"Ultimately, it's about providing the best possible customer service.

 

And those many times arise when two things that no one has ever thought to combine combine. "
In other words, it makes sense to create a portfolio where one service spills over to another or nourishes another. On the other hand, it will continue to be true that cooperation between direct competitors is not very likely. 
Yes, a healthy level of competition must remain. Ultimately, companies will have to ask themselves, "Do we even have a chance to succeed ourselves? Or do we have a better chance of success if we join forces, partly or overall, with somebody else? 
What opportunities does this transformation offer to individual (online) retailers?
The opportunity is the very possibility of being part of the transformation. Those involved have a chance to shape and shape the future of retail. Whether you're a brand, an e-shop, or a physical store in the city center, take the opportunity to be there when consumers change their behavior. The challenge will be to find answers to these changes. Discover what customers want and need. Those who do well will think outside the track, innovate, create and collaborate – they will be successful. Those who reject the new tendencies will disappear.
This is the case in retail, things arise and disappear. And sometimes trends come back. Now we are experiencing comeback locality. Consumers take care of the neighborhood, community, authenticity, personal conduct and tailor-made personalization. In the near future, the data will help us establish as deep and human interaction between the customer and the business as we can now face to face. 
Voice search is also worth introducing into Czech
Holograms, virtual or augmented reality. Technologies will be big disruptors and those who introduce the news on time will get a head start. The first such big chance will be voice search – what do you recommend to companies that want to use voice search as soon as possible?  
Big retailers are already familiar with the voice – watching what works elsewhere, traveling and rehearsing. They want to be ready as soon as the voice search era begins. Once this happens, the world of retail will surely change. But we're not there yet. Technology giants are introducing the first products and their competition in this field will be intensified.
Here, too, Europe will have the opportunity to set the standard for working with voice search, voice recognition, voice data and algorithms. It will be a very interesting field – is it your voice, but who owns the data? You or Google? We are also discussing this in Ecommerce Europe. 
My advice to smaller retailers would be to perceive and broaden horizons on this subject. Large retailers and products that search and sell well by voice (eg ordering pizza), I recommend starting experimenting and trying out what works.
Will voice search localization make sense for smaller European states and nations, like the Czech Republic with 10 million inhabitants and a specific language? Is it worth it?
Yes, it's just a matter of time. Google recently launched voice search in Dutch (Amazon not yet). Here we have to realize that even technological giants are experimenting. Nobody knows exactly how it will work. But we perceive that we are going in the right direction.
The right direction for what?
To the stage when searching and ordering by voice becomes natural – when we don't have to think about it and we don't find it weird. In China, for example, they already have it, you normally meet people talking on mobile phones instead of typing. Chinese has 250 characters, while Latin only 26. Writing is difficult for them, speaking is easier. Ultimately, this is the reason why the voice gets caught – it's easier than typing. It makes us more natural. 
When we look at individual segments, consumers buy differently in them. Returns are common in fashion, price sensitivity in electronics, etc. Will such an onlife customer buy a variety of goods in a variety of ways, or will individual borders dissolve in favor of a seamless experience ?
In general, we are aiming to overlap the boundaries of individual segments, also thanks to the cooperation of various services, as we have said above. But to some extent, of course, in some segments more than in others. For example, customers will still want to smell perfume. That's why we see more and more new showrooms, pop-ups, store-in-stores. The purpose is not to sell in these places. The goal of offline is to establish a relationship. Recall brand. Personalization and excellent service will become increasingly important. Improving data quality will also improve the ability to target a customer online and sell goods there.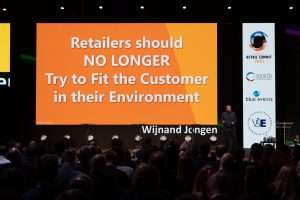 The onlife
 

customer will not be as sensitive to data.

 

He accepts that companies work with them
During our conversation, we're constantly bumping data. Personal data, product data, big data. Retailers will have more data and new kinds of data that did not exist before in the onlife era. What can they use for and where to start?
All data is ultimately about trust. We need to inspire our customers 1) to provide us with data, 2) to collect big data through algorithms. Artificial intelligence, machine learning and deep learning will work with them in the future. Big data in this form will create space for a completely different perception of both business and consumers and what they want and how to deal with them. We will not only have to respond to customer behavior, we can predict – in the future, what they think.
What Real Data Companies Can Do Now?
Share. We tend to keep the data with us as something valuable. I understand it. But in the future, it will be important that thousands and thousands of smaller retailers share, combine and enrich data, of course, within the limits of what they can.
You mention that businesses will have data that didn't exist before. A huge amount of new data will also generate the Internet of Things (where refrigerators need to communicate with washing machines and cars). How can we use them?
When machines, things and people can connect and communicate together anytime, anywhere, there are incredible opportunities for consumers, businesses and the entire economy. In 2003, only about 500 appliances, machines and things were connected to the Internet. Today it is 50 billion. The shops will be interconnected , from the café to the hardware store to the travel, as well as all the things in them. This data will enable retailers to guide the customer's journey in a tremendous way. 
Emotional data will also be interesting for retailers. Using voice search and artificial intelligence, we will anticipate reactions and emotions. 
"Emotions are always present when buying.

 

Online retail has so far only had the opportunity to work with such a colorful palette of customer data.

 

He will be able to be onlife. "
Of course, this field is not plowed and it raises a lot of questions. But I see it as we gradually accept that companies and algorithms collect data about us. Just as we received ATMs. Thirty years ago, there was a conclusion that the introduction of ATMs would have a bad effect on society, that withdrawing money "off the wall" was impersonal and dangerous. We will say the same about emotional algorithms. We will talk about how we mind, but in the end our behavior will not change – we will still go to social networks, log on to different platforms, download apps, because it will have a lot of benefits for us. In the end we get used to it and soon we won't even get it. I recently tried it when I started paying with my cell phone through face recognition. At first it was strange, I got stuck with every payment. Today I do it completely automatically. 
For retailers, emotional data will have tremendous value. For example, knowing from your voice what your state of mind is when you order a purchase or search for the appliance you need will allow shops to respond to your specific emotions in a way that only a salesman could face to date. 
It's 2020, let's do things differently 
What one thing should we introduce or do in 2020? What golden advice do you have for Czech online retailers?
"Re-think & reinvent yourself." In other words, let's keep working and try to be better. Upgrade, refine, top what we did yesterday. Think outside the track, experiment.
This can be done at different levels. CEOs and leadership should hold and clearly communicate the vision of where the company wants to go in the two-year horizon. At the product management level, it's about constantly reviewing who we are and what we do. And in very specific roles, it's about creating room for ideas and innovation – for example, that the UX designer suggests a button elsewhere than we used to. 
"Small, slight changes will make a lot of music."
This article was published on Dataweps.com on February 11th 2020:
wijnand@wijnandjongen.com
© 2020 Copyright Wijnand Jongen